Posted on
April 8th, 2010
For Easter this year, my mother-in-law got each of the kids a book. Up until that moment, I thought I'd be happy with any age-appropriate book given to my children because: Reading! Always awesome! I will ALWAYS encourage reading! Of course, that was until I saw the name of the main character in this series.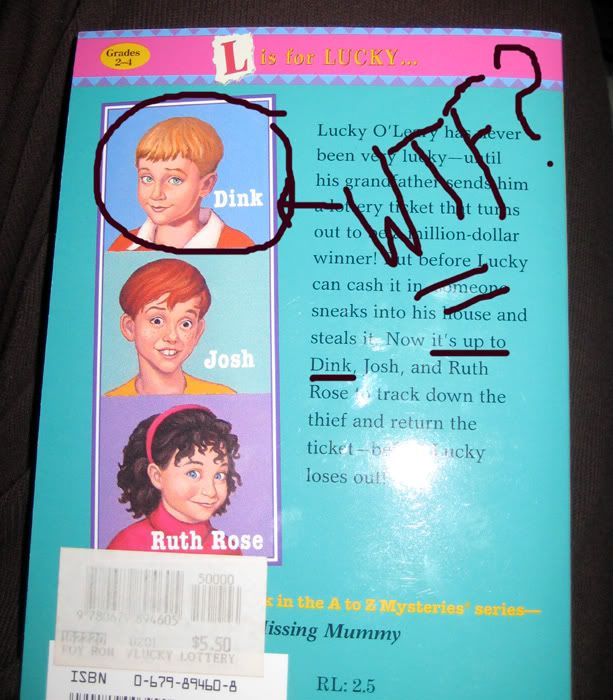 Oh, man. This poor kid is going to spend his life trying to run away from the ass-beatings that his name has guaranteed him… I mean, really. Look at his face. He looks embarrassed, like he's all, "Yeah, you read it right. Please don't punish me for the cruelty of my parents."
So, anyway. You know what this means, right? It means that as long as Logan has this book in his hot little hands, he has an automatic pass to use the word dink any time he pleases. In fact, upon receiving this book, he laughed hysterically for several minutes and then proceeded to say "dink" about fifteen times in thirty seconds.
(Of course, the fact that a room full of adults were busy laughing right along with him probably helped to encourage his Tourettes-esque usage of the word…)
Once he'd gotten it out of his system, Logan exclaimed, "Mom! This is such a NAME FAIL! You need to put this on Fail Blog!"
(That's my boy.)
(Plus, he has a point. That's an ultimate name fail. Seriously.)
(Well, unless the writer was smart enough to realize that ALL little boys EVERYWHERE would find the name Dink funny and thus used it to get them reading the book, even if just to get them to giggle every time they came across it in a sentence.)
(Because only little boys would do such a childish thing.)
After seeing the back cover of the book and giggling just like the above-mentioned school boy gasping with my shock and outrage, a memory began to make its way into the front of my mind.
Last summer, armed with a Margaritaville blender and an obscene amount of Bellini mix, a group of my girlfriends and I noticed another book from this series on our hostess' coffee table. Naturally, the first thing we thought of to do was to search through the book for innocent words and phrases that we could twist into something dirty…
(It's a super fun and cheap party game! Thanks, author of this children's book series with the inappropriately-named main character.)
After digging through my archives to find the above photographic proof of my childishness, I decided to have a quick peek through the book Logan received. You know. Just to see if he'd have any trouble, ah, reading it. Or something.
Unfortunately, the only could-be-pervy sentence I could find in the whole thing was this one:
Hmm. I must be losing my touch. I think I'll go through it again with a tipsy group of my peers and see if we can come up with anything more.